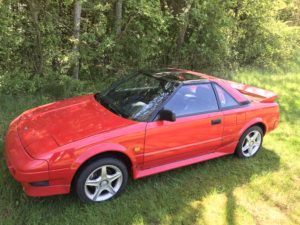 1987 Toyota MR 2 MK1
The Toyota MR2 is a two-seat, mid- engined, rear-wheel-drive sports car manufactured in Japan and marketed globally by Toyota from 1984 to 2007 over three generations: W10 (1984–1989), W20 (1990–1999) and W30 (2000–2007). It is Japan's first mid-engined production car.This was a pretty conventional 1.6-litre in-line four, but with double overhead cams, four valves per cylinder and fuel injection. This gave it a healthy power output of 128hp (112hp in the US), and 0-60mph time between 8 and 9 seconds and a top speed of around 120mph.
Classiccars September 2008:
Japan´s first mid-engined pooduction car might have looked like a Ferrari, but its chassis was engineered by Lotus – now you know why it´s such fun.
https://www.jyskautomobilmuseum.dk/wp-content/uploads/2017/09/91b1d2f39a70355c3e5137221bfc7294.jpg
343
280
mads845a
mads845a
2017-10-03 12:51:48
2018-06-23 19:03:49
News