https://www.jyskautomobilmuseum.dk/wp-content/uploads/2017/09/91b1d2f39a70355c3e5137221bfc7294.jpg
343
280
mads845a
mads845a
2017-10-04 09:00:47
2020-09-30 05:45:39
Veteran Truck Meeting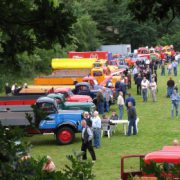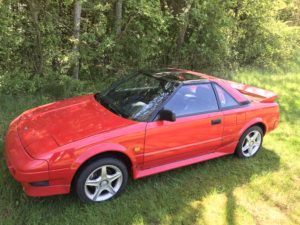 1987 Toyota MR 2 MK1
The Toyota MR2 is a two-seat, mid- engined, rear-wheel-drive sports car manufactured in Japan and marketed globally by Toyota from 1984 to 2007 over three generations: W10 (1984–1989), W20 (1990–1999) and W30 (2000–2007). It is Japan's first mid-engined production car.This was a pretty conventional 1.6-litre in-line four, but with double overhead cams, four valves per cylinder and fuel injection. This gave it a healthy power output of 128hp (112hp in the US), and 0-60mph time between 8 and 9 seconds and a top speed of around 120mph.
Classiccars September 2008:
Japan´s first mid-engined pooduction car might have looked like a Ferrari, but its chassis was engineered by Lotus – now you know why it´s such fun.
https://www.jyskautomobilmuseum.dk/wp-content/uploads/2017/09/91b1d2f39a70355c3e5137221bfc7294.jpg
343
280
mads845a
mads845a
2017-10-03 12:51:48
2018-06-23 19:03:49
News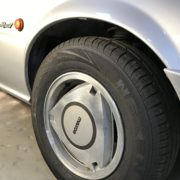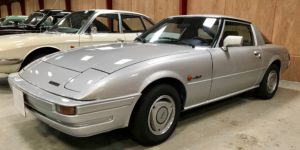 1982 Mazda RX-7 (Wankel) Fabrik: Mazda Motor Corporation2 rotorer med en samlet kammer volume på 1146 cm. Svarende til 2292cm. cyl. Volume i en stempel-motor. Effekt: 105 DIN-HK og et maksimalt omdrejningsmoment på 14,7 kpm DIN. Rotationsmotorer er ikke specielt benzinøkonomiske, men har sine væsentlige fordele i god acceleration og lav vægt (1025 kg.) og volume i forhold til ydelse. Mazda RX-7 kommer fra 0-100 km/t. på 8,9 sek. Tophastighed: 200 km/t. Benzinforbrug: 9,6 km/l.I 1961 fik Mazda licensrettighed af NSU til at bygge Wankel motorer. Det første resultat fra Mazda var meget forskellig fra NSU. Væsentlige forbedringer resulterede i bedre præstation, brændstof forbrug og driftsikkerhed. Det første resultat kom i 1967 med Mazda Cosmo 110 Coupe. Herefter blev Wankel motorer normalt i Mazda biler.Pris fra ny: 224.989 kr. En BMW 315 2-dørs kostede i 1982 109.918 kr.
https://www.jyskautomobilmuseum.dk/wp-content/uploads/2017/05/IMG_1176.jpg
3024
4032
mads845a
mads845a
2017-05-03 08:40:20
2023-09-04 05:46:42
Nyheder
Contact
Jysk Automobilmuseum
Skovvejen 13B
DK-8883 Gjern
Tlf. +4521372582
info@jyskautomobilmuseum.dk
Opening hours
April 1st – May. 31th  Sat, Sun  10:00 – 16:00
June 1st – Aug. 31th.  Mon – Sun  10:00 – 16:00
Sep. 1st – Oct. 31st  Sat, Sun  10:00 – 16:00
Nov. 1st – Mar. 31st  Winter closed